The company is at the center of our Competence Center Restructuring's (CCR) activities. All stakeholders such as shareholders, managing directors and banks are interested in a prospering company.


In order to make a recommendation which is appropriate for the company's current situation, the CCR considers the company from different perspectives. Such different perspectives are possible due to the CCR's interdisciplinary approach. Interdisciplinary means, first of all, that both highly specialized lawyers and public accountants work hand in hand. It also means, however, that pronounced industry experts assess the company's performance situation and, based upon their expertise, are also able to implement measures derived from the interdisciplinary analysis.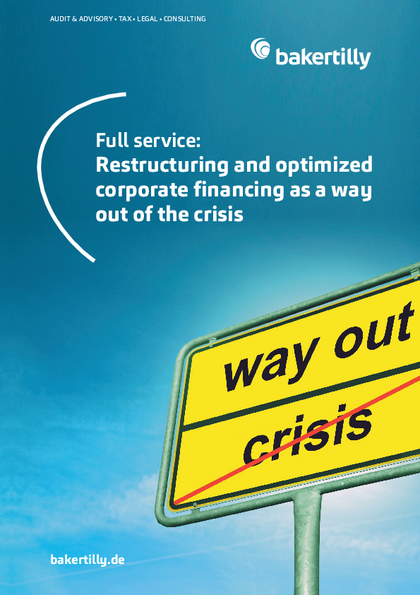 For borrowers and investors: tax consultants, lawyers, restructuring consultants and financing experts work close together for your way out of the crisis.

Download all information about the integrated approach Baker Tilly DELTA (Debt Equity Legal Tax Advisory) now as a PDF brochure.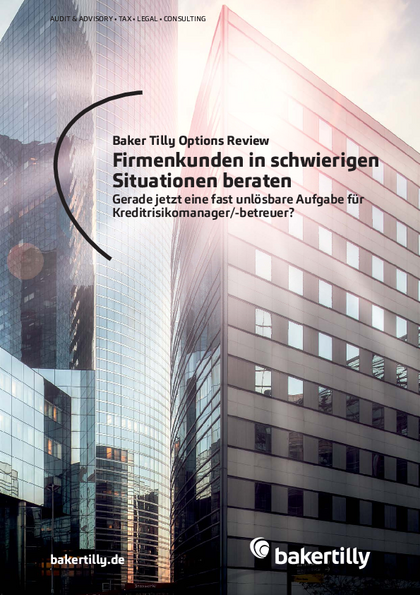 Banks and bank employees are regularly among their customers' first points of contact when these are facing problematic or challenging situations with their business. In these situations, the bank is often consulted for advice and assistance. Baker Tilly has years of proven expertise in developing customized solutions for businesses, whether in restructuring situations, prior to an impending generational transition, or in loan refinancing. The Baker Tilly Options Review leverages such expertise for you and your borrowers quickly and cost-effectively!
Interdisciplinarity also enables the CCR to support the company during relevant stages of its development. This means, first of all, that the CCR uses its network in order to acquire the financing which is required for the company's growth but which, on the other hand, can also be helpful in a turn-around situation. The CCR's activities are focused on restructuring consulting from an economic and legal point of view. Economic restructuring consulting is based on an analytically clearly derived restructuring concept which reflects not only financial restructuring but also includes performance-related measures which will be subsequently implemented promptly and professionally. Legal restructuring consulting focuses on the avoidance of liability for damages or Avoidance actions. The CCR also uses this know-how for restructuring in insolvency via debtor-in-possession management and insolvency plans. The CCR masters debtor-in-possession cases because, in addition to the appropriate personalities, it has the fundamental skills, particularly with insolvency accounting, which are required – and expected by the insolvency courts – for restructuring in insolvency.
In this context, the CCR takes into account the client's special position, unless the company is the client. The managing director is mainly responsible for decisions within the company and his liability risk is accordingly high. Therefore, crisis situations especially call for professional, committed advice to the managing director. In insolvency, shareholders are exposed to the risk of having to repay contributions on shareholders loans and the shareholders may lose their shareholder rights during insolvency. The CCR advises prior to insolvency and helps to preserve the position of existing shareholders by means of smartly structured insolvency plans, and also helps existing and new shareholders, such as PE investors, to restructure or acquire their shareholder position by means of insolvency plans. The financial institutions involved in reorganizations receive from the CCR objectively comprehensible and reliable assessments of reorganization concepts, which prevent liability or even the repayment of credit tranches. In order to achieve this, restructuring concepts are prepared in accordance with both IDW S6 and BGH (German Federal Court of Justice) case law.
Business restructuring consulting
Legal restructuring consulting
Compulsory administration proceedings
Insolvency administration/trusteeship
Baker Tilly has six insolvency administrators working at various courts throughout Germany. We are familiar with the practice of insolvency administration from more than 4,000 insolvency cases of all sizes and from all industries. Therefore, we are very well networked in the insolvency administration sector in Germany and know many contacts personally. We are regularly appointed as administrators in particular at the insolvency courts of Hamburg, Frankfurt a. M. and Munich as well as numerous insolvency courts in the surrounding areas.
Our expertise in practical administration helps in assessing actual risks and opportunities.
Dr. Alexander Fridgen
Attorney-at-Law (Rechtsanwalt), Specialist Lawyer for Insolvency and Restructuring Law, Specialist Lawyer for Banking and Capital Markets Law
Partner
Finn Peters
Attorney-at-Law (Rechtsanwalt), Specialist Lawyer for Insolvency Law
Partner
Dr. Dejan Marković, LL.M. Eur.
Attorney-at-law (Rechtsanwalt), Specialist Lawyer for Insolvency and Restructuring Law, Specialist Lawyer in Labor Law
Director
Dr. Birthe Vietze
Attorney-at-Law (Rechtsanwältin), Specialist Lawyer for Insolvency Law
Director
Stephanie Pidun
Attorney-at-Law (Rechtsanwältin), Specialist in Insolvency Law
Director
Florian Bandrack, LL.M. corp. restruc.
Attorney-at-Law (Rechtsanwalt), Specialist Lawyer in Labor Law
Director